Home sellers could face tough decisions in the coming months as auctions clearance rate plunging below 60% in Sydney and Melbourne, indicating further declines in house prices.
Some sellers may decide to change their plans and pause listing their home, while others may choose to just go ahead and cash in before prices drop further.
Sydney's clearance rates for May fell to 55.9%, while Melbourne's fell to 59.1%, their lowest point in 12 months in domain data. Brisbane, where the clearance rate was 54.7%, and Canberra at 67.9% also recorded their lowest point of the year.
Clearance rates are an indicator of whether the real estate market is rising, falling or stable, with rates above 70% indicating an annual increase in house prices of at least 10%. Anything below 60% indicates lower prices overall and a weaker market.
READ MORE: They are between a house and a unit, and go up everywhere
Area head of research and economics Dr Nicola Powell said listings increased in May, meaning more choice for buyers of homes still on the market.
"Clearance rates fell below 70% in all capitals this month due to more homes on the market but reduced competition among buyers, underscoring the overall slowdown in the housing market. "Powell said.
"The gradual shift to a buyer's market could lead to continued declines in clearance rates, reduced choice among buyers, and shifting price expectations for sellers."
Economists expect the weakening in clearance rates to continue this year, with the first weekend of June seeing a preliminary clearance rate of 55% in Sydney and 59% in Melbourne. Both were expected to be revised lower, possibly below 50% in Sydney, as more results are received.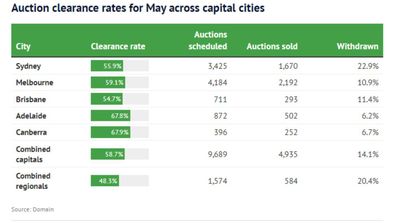 READ MORE: The cheapest real estate offers of the week in Australia
Agents and auctioneers say the sale is getting tougher than last year as buyers grow more demanding and fear missing out changes to fear of paying too much.
Additional construction costs also discourage bidders who once liked to find a repairman to do his.
Westpac senior economist Matthew Hassan said the first official interest rate hike by the Reserve Bank of Australia in May was a shock to the market.
"It's a very clear shake for the market," Hassan said. "It's really down to the movement in rates and the broader expectation that the cost of living is going up and there are more rate hikes to come."
READ MORE: Three Byron-Area Lists That Prove the 'Hemsworth Effect' Is Real
Hassan said clearance rates were down while there was also a sharp increase in auctions withdrawn in May. In Sydney, the number of auctions withdrawn doubled from April figures, according to data from the field.
"From a seller's perspective, they face a dilemma: do they take the hit and sell, or do they wait for possibly the next two to three years for things to improve?" Hasan said.
AMP Capital's chief economist, Shane Oliver, said home sellers and buyers could expect clearance rates to bottom out at around 40% in the next 12 to 18 months. , as in previous market downturns.
With the Reserve Bank meeting on Tuesday and interest rates likely to rise again, buyers' borrowing potential could be further impacted.
"Rising interest rates are impacting the market much sooner than in the past," Oliver said. "That's because around 45% of new lending is in fixed rate loans, where interest rates rose before the official RBA hike in May."
Oliver said clearance rates would continue to fall, but not as much as they had during the pandemic shutdowns, where some had fallen as low as the 20% range.
"I think we're going to go down to the low forties and spend some time bouncing back to the start of the recovery," he said. "We still have a little more damage to come."
This article first appeared on age.